Portable Oxygen Concentrator UK
Andrew Palmer | 24 July, 2020
Quality Oxygen Concentrators
Whether you have Chronic Obstructive Pulmonary Disease (COPD), Cystic Fibrosis or Heart Failure you may be considering the purchase of a portable oxygen concentrator so you can continue to experience and enjoy the things you love. Whether it is shopping and lunch out or a round of golf, you can trust that a quality portable oxygen concentrator will allow you to continue living life without boundaries.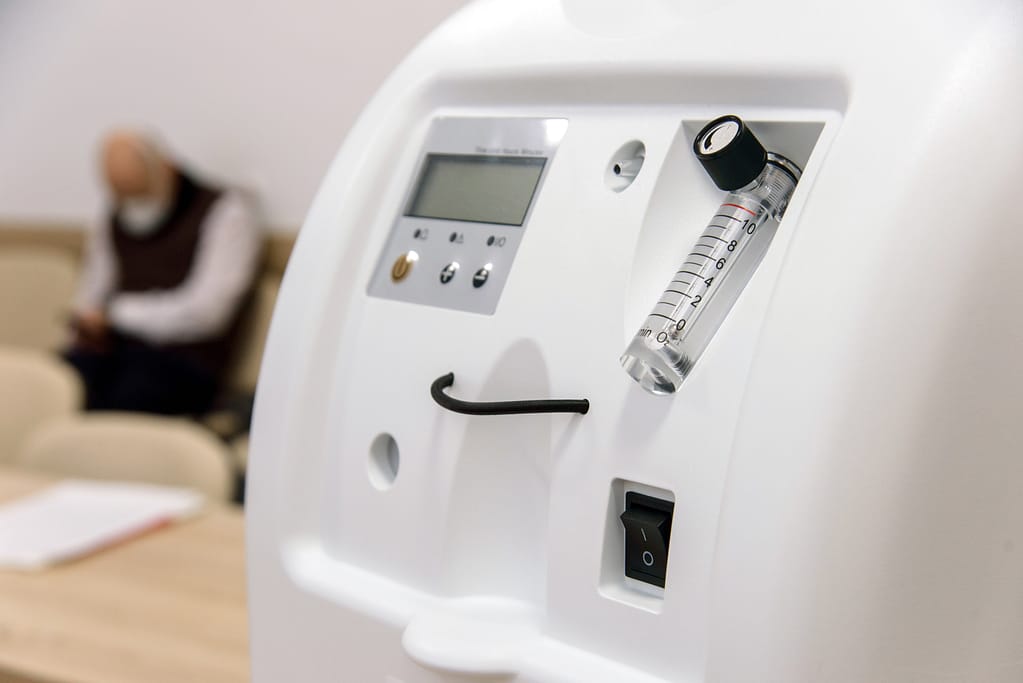 What Is An Oxygen Concentrator?
Oxygen concentrators are also known as POC's and they are medical devices that are used to help individuals who suffer from low levels of blood oxygen. Oxygen concentrators from Additional Aids mobility can be plugged into electrical outlets or they can be powered by a battery, although the battery will need to be recharged. 
No matter what type of POC you are looking for, you can trust that we have your needs covered. If you aren't sure what you are looking for, you can rest assured that a member of our friendly and professional team will be on hand to discuss your individual needs and requirements with you, to make sure you receive a product that is best for your needs.
How Does an Oxygen Concentrator Work?
A POC system is capable of producing oxygen of up to 90%. The system is made of a system of filters that produce nitrogen from the air. The most important consideration for a POC is its ability to provide adequate oxygen during normal periods. Other variables such as the number and capacity of the system are also considered, such as battery capacity and a number of added-on batteries, or a number of options for re-use of the device as well as the quality of the oxygen it produces.
The Benefits Of An Oxygen Concentrator
the concentrator is able to continue living independently, whether that includes popping to the shops or continuing to enjoy the hobbies they love. Oxygen patients who use concentrators have listed a number of benefits that they experienced including:
Easy to use

Improved mobility thanks to the lightweight and compact designs

Increased stamina for activities including walking the dog, cleaning, shopping etc

Helps to maintain an independent lifestyle

Customised to meet the individual patient's needs and requirements

Offers a number of flow rates, including pulse flow and continuous flow 

Comfortable nasal cannula and face mask 
With a whole range of benefits, it is easy to see why oxygen concentrators are becoming increasingly popular for individuals who experience low oxygen levels and require additional oxygen. Whether you are struggling with lung disease or a breathing disorder, you can trust that our portable oxygen concentrators will benefit you and allow you to continue experiencing the things you love and everyday life with little disruption.
Buy An Oxygen Concentrator
Should you be looking to buy portable oxygen concentrators then you have come to the right place. We are a specialist provider and have a wide selection of oxygen concentrators and equipment available to buy from our online shop. Including 5 & 10-litre oxygen concentrators, oxygen concentrator masks, starter sets and more. With fast delivery rates, you can trust that you will receive the products you need when you need them. Having provided patients with high quality and affordable POC's for a number of years now, we are the leading choice for many who are looking to buy portable oxygen concentrators.
When it comes to oxygen concentrators, we advise considering that the 5 and 10 litres will need to be plugged into the mains and the iGo2 is fully portable and will use a rechargeable battery.
iGo2 Portable Oxygen Concentrator
The iGO2 is the first-of-its-kind Portable Oxygen Concentrator that uses patented SmartDose Technology to automatically adjust the oxygen dose to each user's breath rate. The technology delivers more oxygen when needed, maintaining a high performance that allows patients requiring independence from an oximeter for travel purposes with peace of mind and confidence they will receive the necessary levels of life-sustaining O2.
Looking for a Lightweight Portable Oxygen Concentrator? Choose The Compact 1025
The 10 Litre Oxygen Concentrator is one of the smallest, most compact high-volume concentrators on the market. It weighs only 19 kg (42 lbs), which makes it perfect for patients who require more than 5 LPM of oxygen and need something light to carry around with them all day long! Equipped with exclusive DeVilbiss OSD® technology for monitoring how much urine you produce per minute, this device helps ensure your safety while also being reliable – especially when compared to other competitors that seem less safe or dependable in some ways.
The Compact 525
This compact concentrator helps to increase patient comfort and lower operating costs. With up to 5 LPM output, it is an excellent choice for those who need a cost-effective option on the go!
Oxygen Concentrator Online
Buying portable concentrators has never been easier, you can easily buy a whole range of products online. However, you may not know exactly what you are looking for. Should you have been prescribed a portable oxygen concentrator by a healthcare professional, doctor or GP, you can then contact our team. 
When you get in touch with the experts at Additional Aids Mobility you can rest assured that our team will go through a quick and easy assessment with you, to ensure that you are matched with the right product for you. Our team will take into account the condition you are living with, the excess oxygen levels you require, the activities you partake in and the battery life. 
Helping to make sure that you receive a product that helps you to live your life to the fullest, and continue to make amazing memories!
Best Portable Oxygen Concentrators UK
With a wide range of products available on the market, it is hard to say what the best oxygen concentrators areas all the different types have different benefits and are suitable for different uses. While some oxygen concentrators are suitable for driving, others are not, some may have longer battery life than others. 
What you can be sure of though, is that the team at Additional Aids Mobility will help you to find the best oxygen concentrator for you and your individual needs. If you need a product that lasts all day so you can enjoy a trip to the coast, or if you require a product that simply allows you to nip to the shops and get your cleaning done, we are sure to have what you are looking for.
Frequently Asked Questions
Over the years we have had customers ask us a whole range of questions about oxygen Concentrator, so we thought we would include a few of the most common questions here to see if they answer any of your queries. A member of our team will be happy to help you with any queries.
How Does An Oxygen Concentrator Work?
An oxygen concentrator works in a similar way to domestic oxygen therapy, however, the only difference is you can be on the move. An oxygen concentrator will receive air, ensure it is purified and distribute the changed air to the individual who is using the concentrator. The air the concentrator receives initially will be made up of nitrogen, once purified the air is then oxygen with a small percentage of nitrogen, the specialist devices will then extract the nitrogen to ensure that the individual is receiving as much oxygen as possible.
5 & 10-litre oxygen concentrators will use a continuous air supply which the user adjusts to suit. The minimum is 2 litres per minute and up to either 5 or 10 litres per minute. The portable iGo2 uses Smart Technology and monitors your breathing. As you breathe out, the Smart Technology measures your oxygen level and delivers the correct dosage as a pulse as you breathe in. If you are sitting down and inactive, the pulse level is much less than if you were walking around or active.
Does An Oxygen Concentrator Help Improve Sleep?
Yes, the 5 and 10-litre oxygen concentrator would need to be used because as you sleep your levels of oxygen saturation will drop (this happens in those with healthy lungs too). Some individuals who suffer from COPD or other breathing difficulties can experience what is known as transient nocturnal desaturation, this can impact the individual's sleep and we all know that lack of sleep can lead to other health issues. If you are suffering from a lack of sleep, be sure to speak to your doctor who may advise oxygen therapy through sleeping.
How Do I Know if I Need Oxygen Therapy?
You will likely have discussed this with your doctor, if you have a long term condition and your doctor thinks this will be a suitable option you will have visited an oxygen clinic for an assessment. Here, your oxygen saturation levels will be tested and measured.
What Does An Oxygen Concentrator Do?
An oxygen concentration machine basically ensures that you have the right amount of oxygen that you require throughout the course of the day, this includes when you are sleeping. An oxygen concentration machine will ensure that you have a steady and reliable source of oxygen when you need it, not just at home but when you are out and about to.
Can I Take An Oxygen Concentrator On Holiday?
There is no reason for you not to go on holiday as long as you are well and plan your travel in advance, as you may need to visit your oxygen clinic before you travel. When you do travel, you will need to ensure that you have all of your usual medication and a copy of the home oxygen order form that you receive at the clinic. It is also essential that you advise your travel insurance that you will be using oxygen while you are on holiday and travelling with the machine. The iGo2 is safe to use on aeroplanes and cruise ships.
We hope the above has answered some of the questions you may have about POC's, but should you have any further questions or need further advice, please don't hesitate to contact us.
How Can Additional Aids Mobility Help?
Additional Aids Mobility has been providing patients with high quality and cost-effective oxygen concentrators for a number of years now. We have an excellent reputation for the products we provide and the knowledge that we have to ensure that all of our customers receive the best product for their individual needs and requirements. No matter where you are based, you can rest assured that we have all of your needs covered.
Our friendly and professional team are on hand to provide expert advice, and should you need it we can also provide it at home or in shop assessments. When you choose Additional Aids Mobility you can have complete peace of mind that we take great pride in ensuring that all of our customers' needs are met, so that you can continue to enjoy the life you love!
Get In Touch With Additional Aids Mobility
For all of your oxygen concentrator needs and requirements, get in touch with us today. We are also on hand to help and provide assistance with any other mobility requirements you may have including mobility scooters, stairlifts, chairs, beds and more. So don't hesitate to get in touch with the experts when it comes to keeping your independence and enjoying life.